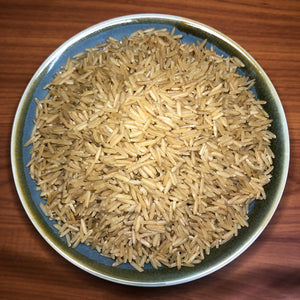 Product description:
This Basmati Rice is is insecticide free and non-GMO With a light nutty flavour and aroma. Long grain white rice is easy to cook and can be served as a side for any dishes. Or can be milled for a light flour and used as an alternative for any flour in all your favourite recipes.
Some Tips To Use:
This brown rice can be served as a side for any dishes, can be milled for flour. You can make fresh brown rice milk. Rinse and then just presoak it overnight, strain and blend with water. You can sweeten it if you like with honey, coconut nectar or maple syrup. Then strain through a clean cloth by squeezing and Enjoy it in your hot or cold drinks as an alternative of dairy milk in recipes. Use this brown rice for making incredible delicious pudding. You can use this healthy brown rice flour as an alternative for flour in any recipes balls and patties, pilaf, seafood paella. 

This Organic brown Basmati Rice can be milled for a fresh light wheat-free flour or cooked and used in your favourite recipes.
Ingredients:
Organic Brown Jasmin Rice.
Preservative Free, Non-GMO, Dairy Friendly, Gluten Friendly, Vegan
Country Of Origin: Australia
Allergens:
No Known Allergens.
Packed in a facility may contain traces of peanuts, tree nuts, soy, sesame seeds, milk, egg, gluten, sulphites.
Store in an airtight container in a cool, dry place, away from direct sunlight.
Product Images for illustrative purposes only. Nutrition Information is just an estimate and may be slightly different due to different supplier, bach and other factors.