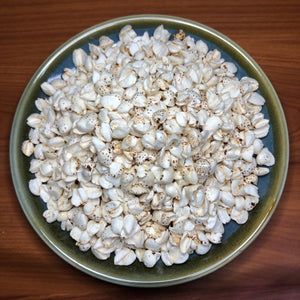 Product Description:
Don't be wrong. Buckwheat is not a kind of wheat or grain, it is a fruit seed comes from rhubarb and sorrel. Add it to any whole grains recipe and see how beautiful it is.  Our Organic Buckwheat puffs is 100% certified organic, GMO-free and has no added preservatives. With a nutty flavour, this Buckwheat can be used in sweet and savoury recipes.
Some Tips to Use:
The ways you can use these, are countless. 
A great altenative for oats in porridge. This Organic buckwheat puffs can be used in all your favourite raw food recipes and treats. Or use it to make your gluten-free muesli.
Ingredients:
Organic Buckwheat
Preservative Free, Non-GMO, Dairy Friendly, Gluten friendly, Vegan, Organic
Country Of Origin: China
Allergens:
No Known Allergens.
Packed in a facility may contain traces of peanuts, tree nuts, soy, sesame seeds, milk, egg, gluten, sulphites and sesame seeds.
Store in an airtight container in a cool, dry place, away from direct sunlight.
Images for illustrative purposes only. Nutrition Information is just an estimate and may be slightly different due to different supplier, bach and other factors.